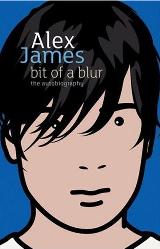 blurのベーシスト、Alex Jamesの自伝を数日間読み続けてました。イギリス留学時代にどの書店でも平積みにされていて、すごく気になっていたもの。でも正直、blurのベーシストって・・・どの人だっけ?という印象しかなくて、授業で読まないといけない本もたくさんあったため、スルーしてました。でも勉強を兼ねて、安くなっていた英語版をamazonで購入。でもページをめくる手が止まらないほどentertainingで面白かった!
というわけで感想も頑張って英語で書きます。
To be honest, I've never been a big fan of blur.
My image about blur was Damon Alburn, Graham Coxson, "Park Life" and "Song2".
(I especially like "Song2"and its line "Woo-hoo!!"). I have seen them as a good band with a genius guitar sound of Graham, but I have always thought their music sounds too british to listen to in Japan. Listening to "Park Life" in Tokyo gives me a strange feeling, like when I see mini-coopers with a union jack flag on their top in my old town. It's just not quite right. Although I have known that they had more universal songs like "Tender" or "This is a law", my image of them was still back in the mid 1990s, when they were absolutely pop and Brit. What a shame.
After reading "bit of a blur", the autobiography of Alex James, who is a bass-player from blur, I realised there is truly a novel-like life for Rock'n Roll stars and how wonderful and terrible it could be. His life is probably too Rock'n Roll with too much champagne and cocaine, but it seems absolutely exciting and something enticing. He honestly writes that he did too much drinking, shagging, taking drugs in his life. I've never thought a bass-player from blur as such a decadant person. If the book had had no author's name, name of an era nor celebrity's names, I could have believed that the book was written by somebody from Rolling Stones. His life can be said as a product of hedonism, sustained by honest self-retrospective views. I like the way how he observes his life and himeself because beyond all the discriptions of luxuary, frantic world of his celebrity life, I could see there are even more valuable, beautiful things exsited in the everyday life. When reading the pages explaining about his wife, children, and the calm life in the country side, he seems happier than ever. I liked it.
It's not very easy to be a proper Rock'n Roll star with fortune. A certain number of them get sick or die by drugs, sometimes they go mad or even kill themselves. I always feel very sad when I know those terrible stories happened in the past and in the present. Reading "bit of a blur" is like a travelling in a magical mistery tour with Alex, the man of optimism. He writes that he doesn't regret anything of his past, even though he made lots of mistakes and did crazy things. I think it is what Rock'n Roll stars should be. I want them to be happy, cheerful, energetic, excited and dreaming, if their music is so great and making people happy. "We are dreamers of dreams", Alex said, and I do believe so. I recommend this book not only to fans of blur, but also to everybody who loves rock music and wants a great life story of dreamers.